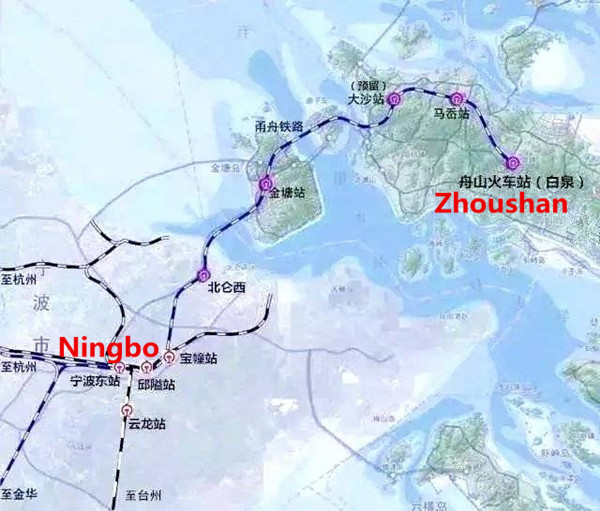 The sketch map of the to-be-built rail between Ningbo and Zhoushan.
China's first high-speed rail with an undersea segment connecting Zhoushan Islands in East China's Zhejiang province with the mainland began rolling with the launch of a full-scale survey and design, Xinhua News Agency reported on Tuesday.
The Ningbo-Zhoushan railway, a total distance of 77 kilometers, will run through a 16.2-kilometer-long undersea tunnel from Ningbo to Jintang Island in Zhoushan, and over several sea-crossing bridges when it encounters sea waters.
The railway is set to be a rail-road project which will facilitate high-speed trains as well as vehicles. In this project, trains and vehicles would travel across the sea via two separate tunnels.
Notably, the undersea tunnel at a length of 16.2 kilometers will boast the world's longest undersea high-speed railway tunnel when it is completed.
Different from the 6.7-kilometer-long immersed underwater tunnel of Hong Kong-Zhuhai-Macao Bridge, this underwater passage would be a shield tunnel and placed deeper in the seawater, which would create multiple difficulties for the construction crew.
According to Zhang Chaoyong, the railway's chief designer, the Ningbo-Zhoushan railway will support trains operating at 250 km/h. When it is completed, it will shorten the travel time between Ningbo to Zhoushan to 30 minutes and to one hour and 20 minutes between Hangzhou, capital of Zhejiang province, to Zhoushan. "The construction of this railway will bring China's ability to design bridges and tunnels to a new level," Zhang added.